This diary presents two different flavors of Ohio maps: Fair Districts (a la Florida) and GOP-Friendly. Ohio doesn't have partisan data in the App, so these maps represent my best guesses. I definitely consider these maps to be more discussion-starters about maps under the newly-released 2010 data than polished proposals. In the comments, please feel free to share your own maps or information about local partisan leanings that needs to be taken into account.
Fair Districts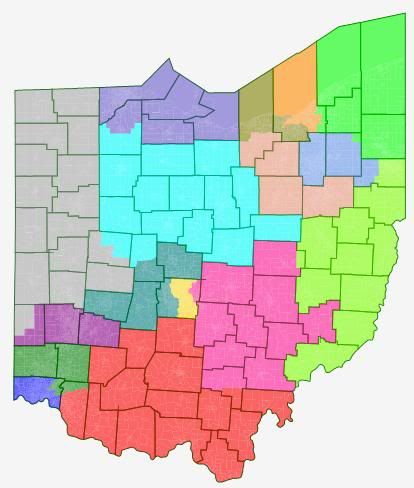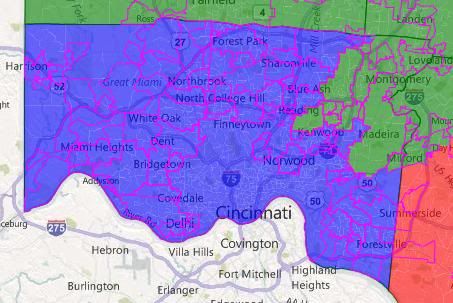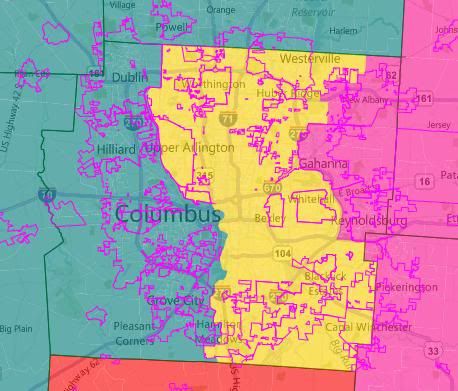 Ohio's geography doesn't lend itself to "must draw" fair-districts as much as Florida's does, but I think this is a pretty good stab at it. All three of the counties big enough to support a single district have them, and the rest of the districts are reasonably compact. There are 13 counties statewide split between two or more districts. Columbus is the only incorporated locality split between districts. This is mostly because Columbus has some bizarrely intricate boundaries that are hard to follow. I ended up using the Scioto River as my boundary guide instead of city limits.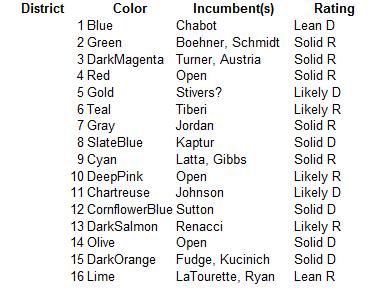 If my ratings are to be trusted (and they probably aren't), this would be a 9 R – 7 D map. VRA note: OH-15 is a plurality African American district, 47.0% VAP.
GOP Friendly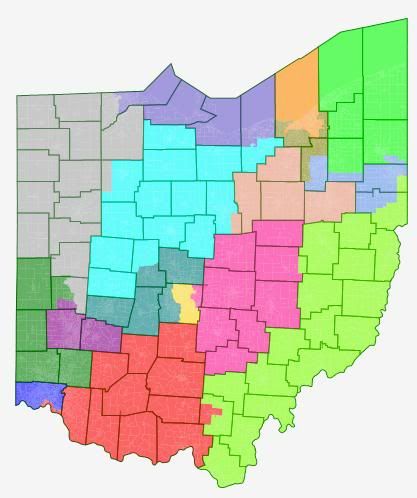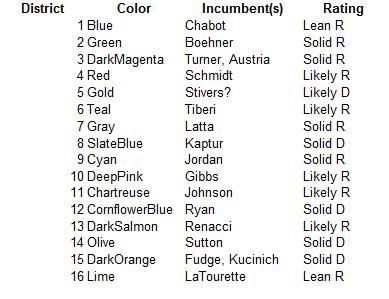 I used the first map as a base, which is probably not the best idea. But I like good-government maps, and I wanted to try to find a GOP map that conformed at least somewhat to good-government principles. All changes described are relative to the Fair Districts map above.
The basic idea here is to pair up Turner and Austria in a Dayton-based district and to pair up Fudge and Kucinich in a Cleveland-based district. Columbus also gets a Democratic vote sink, which means that this map calls for the Republicans to take the hit on both seats. That might not sound "GOP-Friendly", but they're maxed out in Ohio post-2010. I think 11-5 is not a bad target for them.
So what's changed?
First, Cincinnati. Hamilton County is about 80k too many people for a district. In my Fair Districts map, that 80k were suburban whites added to Boehner's district. In my GOP-Friendly map, that 80k is a plurality-African-American strip along the Ohio River, mainly in downtown Cincinnati, added to Schmidt's district. Schmidt might not be able to carry a district that incorporates that part of Hamilton. But most Republicans should be able to, so I think worst case scenario is that they lose that district for a cycle. I've also wrapped Boehner's district around Dayton again, so that he has more of his current constituents.
Second, the northwest. Kaptur's (under this map) OH-08 has been stretched eastwards, pulling OH-07 and OH-09 north. OH-07 and OH-09 have also swapped some territory. I'm pretty sure under the Fair Districts maps the district that Latta lives in has more of Jordan's old constituents and vice versa. I tried to rectify that here.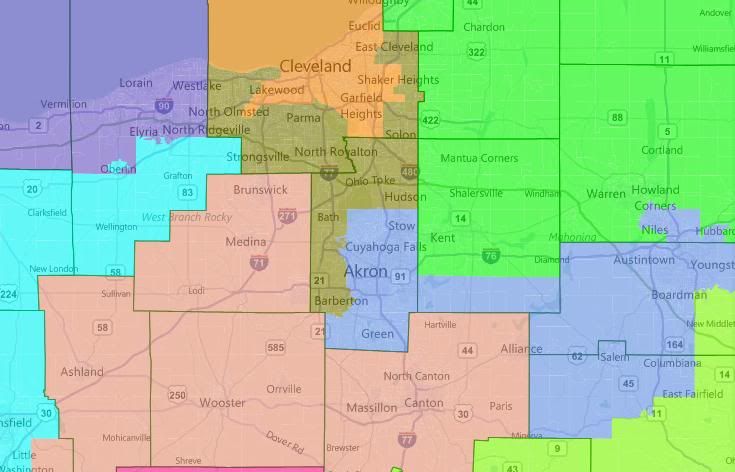 Third, the northeast. There are some major changes here. OH-08 and OH-09 have subsumed Lorain County. This has push OH-14 south and east, where it picks up all of Cuyahoga outside of OH-15 and plunges down into Summitt County and (re)gains Sutton as its incumbent. OH-12 becomes a dumbbell-shaped district linking Akron and Youngstown. It does some swapping with the neighboring OH 16 and OH 11 to get incumbents' residences right. OH-13 drops out of Lorain and picks up Ashland, shoring it up relative to the Fair Districts map. I would be worried as a Republican about LaTourette, because without partisan data, I'm not sure were he stands in that district.
Fourth, the southwest. Johnson's district drops Youngstown, to his relief. It stretches south into OH-04 (which went into Cincinnati). It still needs to grow though, so it pushes OH-10 north. This is convenient, because OH-10 needed to come north so that Gibbs would live in it. (I think he lives in Holmes County, but I'm not sure.)
Lastly, Columbus. This probably ought to change, since if the Republicans do create a Democratic vote sink here, they'll want it to be the best one possible. But without partisan data by precinct, I have no idea what that looks like. If the Republicans aren't willing to concede a distrct in Columbus (which seems likely, if foolhardy), I think they should probably look at splitting Franklin four ways. Again, without partisan data (and without knowing where exactly Stivers lives), it's hard to say what that should look like. But here's a possibility: