I just wish I could see ten different ways of dealing with the Democrats in the Triad, rather than ten different variations that all deal with them the same way: using NC-12.

roguemapper
Two of the most recent NC redistricting diaries have featured roguemapper's cri de couer against I-85-based NC-12s in their comments. Here, I'm only delivering two different ways of dealing with the Triad Dems instead of ten. I hope the comment section will make up for the missing eight.
The argument against an I-85-based NC-12 is threefold: (1) it was upheld in the courts as a partisan-based and not minority-based gerrymander; (2) creating a minority-majority NC-12 barely requires leaving Charlotte, let alone Mecklenburg County; and (3) state Republicans have said they don't want one. I'm currently too lazy to source any of those statements and I'm not interested in arguing them. My purpose is to discuss North Carolina maps that treat that argument as true. Think about it like a move trailer, if it helps:
(booming movie announcer voice) In a world where North Carolina Republicans are committed to a compact, Charlotte-based, minority-majority NC-12… (/booming movie announcer voice)
I'm presenting two maps here. One is an unaggressive and therefore unlikely map that cuts out Kissell but gives the Democrats a new district in the Triad. (It's also got retrogression issues.) I'm posting it because I think it's an interesting baseline for what a minimally gerrymandered map could look like. There's a grand total of ten counties statewide that are split between two or more districts. The other is an extremely aggressive map which creates 10 McCain districts.
Pictures and discussion are after the jump.
(Note: I don't generally like changing colors, because I'm used to the defaults and I assume others are too. But there are too many blues in the first 13 colors for a NC map. On the first map, NC-08 is Beige. On the second map, NC-12 is Beige.)
Map One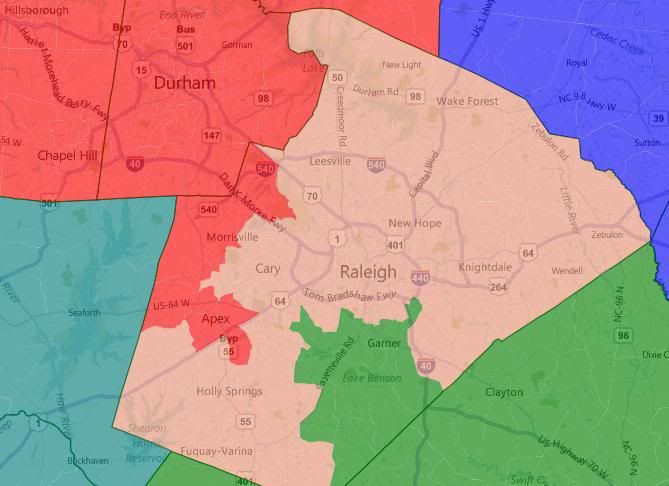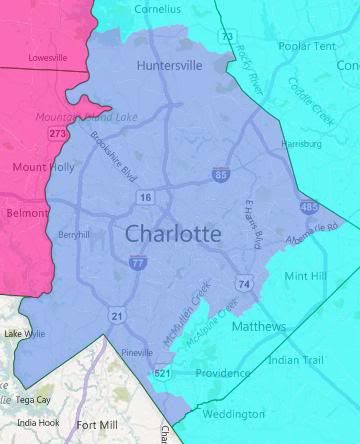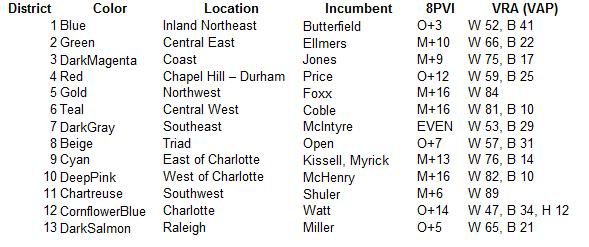 Not much to say about this one. It's my best attempt to use county integrity as my first priority, with partisan effects as my second. All six Republicans should be fine in districts that McCain carried by at least 9 points by at least 5 pts. Correction: The preceding sentence was incorrect. My 8PVI rating means that McCain did at least 9 pts better than he did nationally in all six Republican districts, but that only means that he won them by at least 5 points, not 9. The seven Democrats have a more varied range of impacts. Shuler and Miller are in districts that are about one point more McCain-friendly. McIntyre's district gets a seven point boost in Obama-friendliness. Kissell's district is axed and relocated to the Triad. Miller and Watt hold steady.
NC-01, obviously, would be contentious. There are retrogression concerns in having it become majority-white in terms of VAP (total population it's merely plurality white). It's also lost about six points worth of Obama-friendliness. Something like this would require a Republican legislature that's willing to test the bounds what the courts will let them get away with. If they were willing to adopt the rest of the map (not likely), some playing around with borders of NC-01 and NC-03 should be able to result in better districts for both Jones and Butterfield and satisify retrogression concerns. (Note that this map has Jones drawn out of his district.)
I don't actually endorse this version of NC-01 — again, this particular map is meant to be a baseline for county-integrity. This is important primarily because the Republicans in charge of redistricting have been talking a big game about a clean map. I wanted something to be able to compare to their eventual map.
Map Two
There should be more to say about this one, since it is an actual proposal. But I'm tired, so I'm going to let the pictures tell most of the story. This is, ostensibly, a 10-3 map. Note that is a fairly clean map as well, with a total of 19 counties split between two or more districts.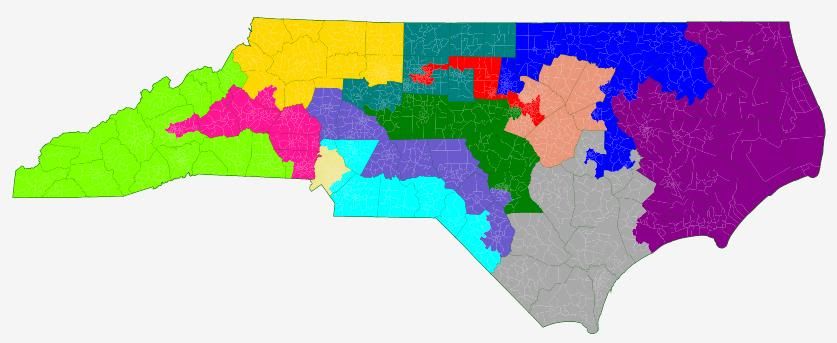 The three Democratic districts are Durham + the core of the old First, Greensboro + Chapel Hill + downtown Raleigh, and Charlotte. Foxx's district is red enough to absorb all of Winston-Salem easily. McHenry's is likewise red enough to absorb Asheville.
I've lumped two incumbent Democrats into one uber-Democratic seat in the north and two incumbent Democrats into one fairly-Republican seat in the south. I'm curious how the primary process would play out in this NC-04.
There are two new Republican open seats. Note how evenly spread Republican strength is — all in the McCain +7 to +12 range.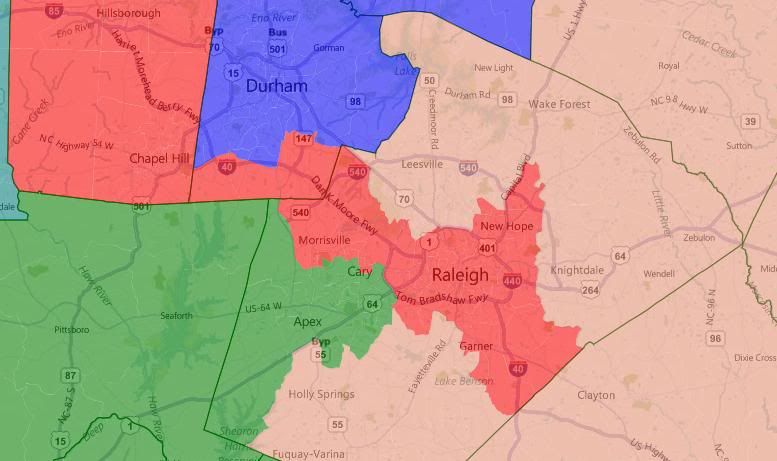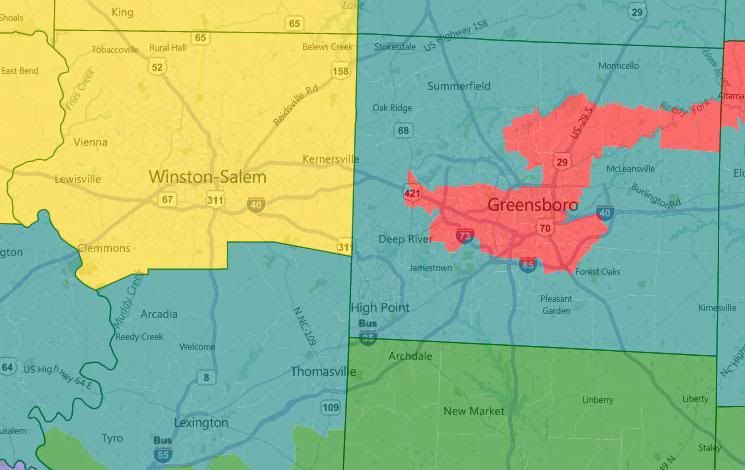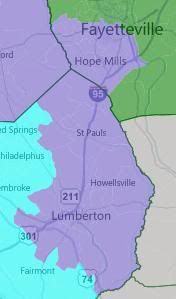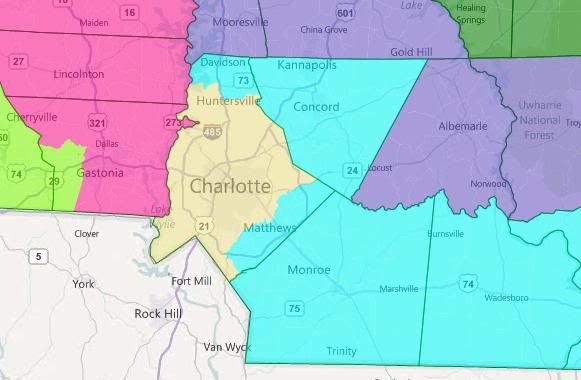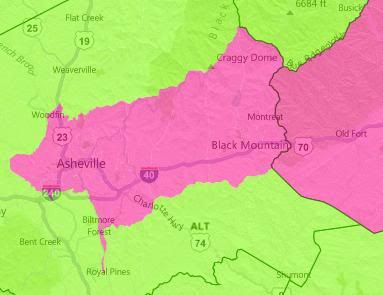 Update: Re-reading my diary, I realized that I incorrectly described the meaning of my 8PVI rating. I've struck through and corrected a sentence up in the Map One section. 8PVI is based on Cook PVI but only uses 2008 voting data. It's a measure of how much better Obama or McCain did in a jurisdiction than they did nationwide. The nationwide balance was 53.5 Obama to 46.5 McCain. So O+10 means Obama won a jurisdiction 63.5 to 36.5. M+5 means McCain won a jurisdiction 51.5 to 48.5.

Loading ...