This is the final part of three posts analyzing the congressional districts President Barack Obama underperformed in. It will focus on the movement in Appalachia and the South Central United States. The previous parts can be found starting here.



The 2010 Midterms
Let's take one last look at those districts in which Mr. Obama did worse than Senator John Kerry: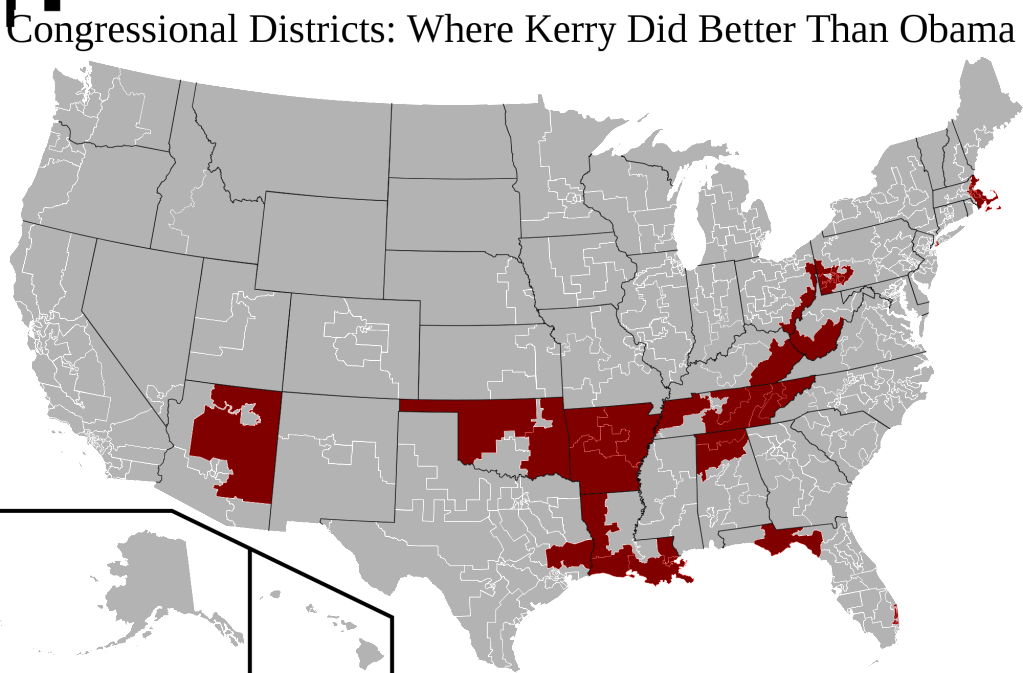 One sees again, as clear as ever, the diagonal pattern of Republican movement in South Central America and the Appalachians.
These districts differ from the northeastern and Florida-based regions examined in the previous post. Unlike those congressional districts, the districts in South Central and Appalachia vote strongly Republican.
More below.
Many of them were never much loyal to the Democrats in the first place; those that did vote Democratic generally stopped doing so after President Bill Clinton left the ticket.
Nevertheless, a number of these South Central and Appalachian districts are still represented by Democratic congressmen. This is readily apparent if one looks at a list of congressional districts in which Mr. Obama underperformed Mr. Kerry:

There are a surprisingly high number of Democrats on this list. As one might expect, the Democratic-voting districts all elect Democrats (except, ironically, for the most Democratic one). Yet more than half of the Republican-voting districts on the list also are represented by Democrats.
That is actually an amazing statistic. These are places in Appalachia and South Central which are already voting Republican, which are fast becoming even more Republican, and which are electing Democratic congressmen.
For Democrats, congressional districts like these constitute ticking time bombs. They will be the first to fall in a Republican wave. There is literally no way the party can continue holding the majority of seats in Arkansas, Tennessee, and West Virginia.
And 2010 looks like a Republican wave year. Democratic-controlled districts in Appalachia and South Central are in deep trouble already: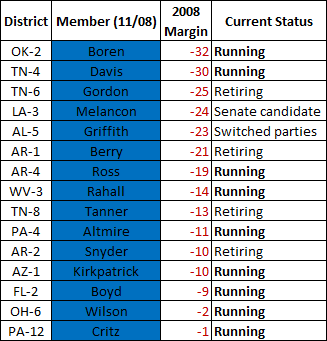 In congressional districts that vote Republican and are becoming Republican, only half the Democratic incumbents are running again. The open seats will likely elect Republican representatives this fall, even in the best forseeable Democratic environment.
There is good news, however, judging from the PA-12 election results. On May 18th Pennsylvania held a special election for a new representative of the 12th congressional district, after incumbent John Murtha's death: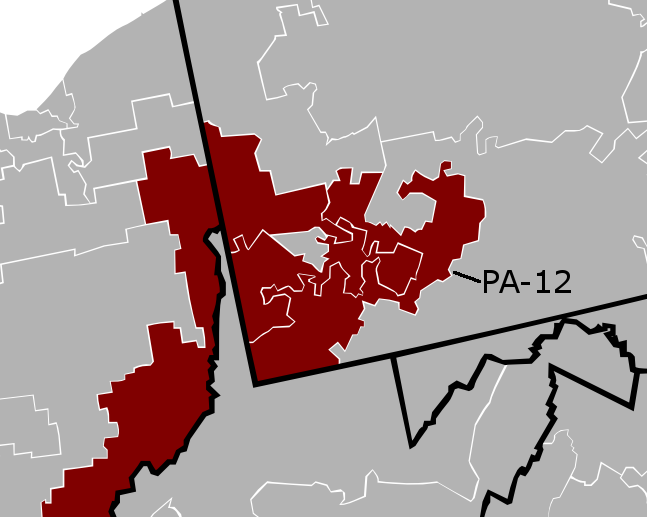 Like many Democratic representatives in South Central and Appalachia, Mr. Murtha had constituted a relic of an earlier time – when southwest Pennsylvania voted Democratic. His continued re-elections were due to his personal popularity and the power of incumbency, even as his district moved more and more Republican.
It was a minor miracle that Democratic candidate Mark Critz won. Until then, no Democratic candidate had ever done better than Mr. Obama since his election. Mr. Critz did just that, given that the president lost PA-12 (the only seat in the nation to support Kerry and the McCain). In a district with double-digit disapproval ratings of Mr. Obama, this constituted an arduous task.
It is the same task that awaits more than a dozen Democrats in Appalachia and South Central America come November 2010.