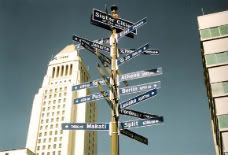 Our friend Mitch writes in the comments:
As many of y'all know, one of the sticking points for the good folks of the 1st district is that Greg Davis, in addition to his other shortcomings, is basically the mayor of a Memphis suburb with much more connection to that city than to the rest of Northeast Mississippi.

And Mississippians want to be represented by a, you know, a Mississippian, not an all-but-Memphian.
That's why Darth Cheney is getting ready to stump for "South Memphis" Mayor Greg Davis:
GALLOW: Monday you are going to be here — on Monday — in the state of Mississippi, and Greg Davis will be there, and you'll be in Senatobia, Hernando, and that area?

THE VICE PRESIDENT: Yes, I think we are going to be. I'm not sure exactly. It's going to be someplace in the First District. I'm not sure exactly what part of it. South Memphis or —

GALLOW: Don't worry about it.
We can see why Cheney would be confused. Southaven, just 14 miles away from downtown, sure looks like South Memphis to us. Maybe Greg Davis would be better off running for Congress in Tennessee.
On the web:

Virtual Phonebanking for Travis Childers