This area is kinda the I-4 corridor. I would say out of the 3 districts I drew which are about 780k people give or take. This is a fast growing area of Florida and this is merely a map that will focus on the communities of interest idea of this area.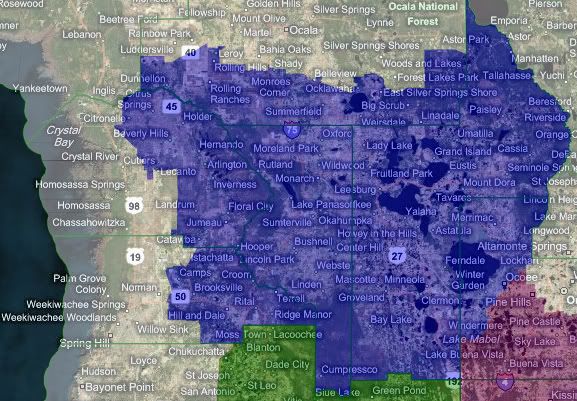 Blue is for the elderly and exurban. The center of the district is The Villages|Lady Lake which looks to grow more and more and is very attractive for Republican identifiers all over the country to move to. This district if it were to be made smaller would likely remove the Lake County portion that would be more of a Daytona exurb. And some parts of Marion county that are not near The Villages into a district that would go to Gainesville or Tallahasse.

I used to live in Citrus county which is in the north and western portion of the district, the county is divided in half, using the potential extension of the Suncoast Parkway as a border. This district is very much a transition from North Florida into the I-4 corridor. I should mention that in modern Florida the plotting of major road corridors are for growth purposes by developers who run the show in this area. This blue district is quite Republican and save for the areas near Orlando it is nearly all red.

It should be noted that the growth here is in the 50+ population and perchance minority populations along State Road 50 for work in Orlando. If this district was to be split up even further the Black voters in western Orange county would probably prefer to be in the purple district; pushing that one further Democratic.
Counties: parts of Citrus, Marion, Hernando, Orange, and all of Lake and Sumter

Partisan rating: Likely Republican for awhile
Green is for the suburbanite. The center of this district is the center-right Lakeland, a city between the sprawling cities of Orlando and Tampa which in turn could make Lakeland similar to Tacoma, Washington many years down the road (Think Seattle and Olympia with Tacoma in between). The area is southern for the most part in this area and middle class.

There are areas that are well to do but down the road there is going to be a large Hispanic plurality in some communities due to farm workers. One only has to drive I-4 to see why I drew this district into Hillsborough, once it his I-75 you see the tall buildings of downtown Tampa and though Plant City appears to be a Tampa suburb it is more similar to Lakeland and Polk county in appearance as well as proximity.
Counties: part of Pasco, Hillsborough and most of Polk

Partisan rating: Lean Republican, but tossup in 10 years
Purple is for Mickey. This district is just South Orlando with all its Theme Parks and its suburbs, it is a majority minority district with Whites having the VAP plurality and Hispanics having the plurality when it comes to the population as a whole. The area is very likely to elect a Democrat. The populations in Osceola county are either Farmers (low in number but Republican), Rich Whites (who occupy the planned communities adjacent to Disney and Universal), and Minorities who very much can bring this district home for Democrats.
Counties: Orange and Osceola

Partisan rating: Lean to Likely Democrat
I felt like putting this up for all to see since I have seen some diaries that split these areas up. Mind you I do not expect everyone to conform to what I think; but I am offering this as a guide for those interested in communities of interest in the I-4 corridor. This is absent actual partisan data but just an assumption on my part as someone who has spent a great part of the past few years traveling around this area.
If wanted, I would love to post a Tampa Bay and Orlando-Daytona maps finishing the I-4 corridor for reference.

Loading ...