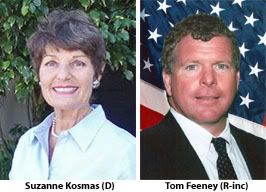 The Swing State Project has updated its rating of the race for Florida's 24 District from "Lean Republican" to Tossup.
A number of factors have contributed to our decision to adjust our rating, but GOP Rep. Tom Feeney's decision apologize for taking a golf trip to Scotland on corrupt lobbyist Jack Abramoff's dime in his first TV ad of the general election was the deciding factor. Talk about losing your poker face.
Feeney's apology for his own corruption is both an admission of his own electoral worries and a risky play to prevent his image from being corroded by weeks of attack ads from Kosmas and the DCCC. But judging by the local press reaction to Feeney's gambit, it's clear that he made a tactical blunder by raising unresolved issues. Just check out this editorial by Florida Today:
What Feeney doesn't say is that he remains under investigation by the FBI for his Abramoff ties and has refused to publicly answer detailed questions about the probe since it began in 2007. That includes repeated requests from FLORIDA TODAY's editorial board.

Meanwhile, a press release his campaign e-mailed Wednesday is a tired rehash of previous Feeney statements on the subject and does nothing to clear the air.

Feeney owes voters a full public accounting of his actions, with every question asked and answered.

Hiding behind a warm and fuzzy TV ad and canned press release won't cut it.
The St. Petersburg Times went a step further, dubbing Feeney the "loser of the week".
While the optics of an incumbent apologizing for his ties to a jailed lobbyist are dangerous for the GOP here, Democrat Suzanne Kosmas, a former state Representative, will still face a challenge in overcoming the 24th District's Republican lean (it went for Bush by 10 points in 2004, and 6 points in 2000). However, a recent internal poll for the Kosmas campaign showed Feeney's lead dropping from double digits to a single point over the last several months, and she won't be lacking for DCCC assistance.
This one is a real barn burner.