Recently the small Western Kentucky town of Sedalia had their "Sedalia Days", along with a parade. This was an excellent chance for candidates to get to walk the parade route along with the people they wish to represent, and indeed to meet the voters and hear their concerns. Unlike their opponents, Bruce Lunsford, Mitch McConnell and Exxon Ed Whitfield, Heather Ryan and Greg Fischer proved they can truly represent these citizens, by meeting them and listening to their concerns firsthand.
Here is Heather Ryan meeting with grassroots voters:
The great thing about Heather meeting with grassroots voters is when she does, they support her. This couple soon volunteered the services of their Mustang to ride in the parade for Heather:
Thats Heavan, Heather's daughter and America's favorite Mitch McConnell antagonist with the sign.
Here is Heather meeting some more of Western Kentucky's voters, and giving them a Ryan for Kentucky sticker!!:
The parade route was indeed Ryan for Kentucky red and white!!
Here is Heather, husband Carl, and Heavan with another new grassroots Ryan for Kentucky supporter!!:
Not to be outdone by any Mustang, here is the Ryan for Kentucky van, proudly riding the parade route: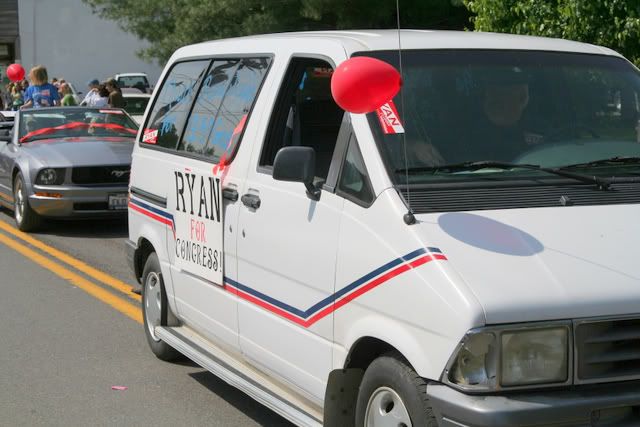 See the lastest thoughts of Heather from the campaign trail here:
I recently started Americans for Ryan to raise $1500 for Heather by May 20. I am now over two-thirds of the way there!! To celebrate I have decided that anyone who contributes to Americans for Ryan by May 20 will be entered into a drawing to win these pinback buttons from the 1960 campaign of JFK:
Win a piece of history by helping us to make history!! Enter here:
http://www.actblue.com/page/am…
Now, Heather Ryan is not the only candidate to expand our Congressional majorities here in Kentucky. Greg Fischer, the Progressive candidate in the Democratic primary to Ditch Mitch McConnell, also found time to meet the average voter in Western Kentucky by coming to Sedalia.
Here is Greg meeting with a senior citizen of Western Kentucky to hear his concerns:
And again, meeting with potential voters:
Here are grassroots supporters of Greg Fischer walking the parade route: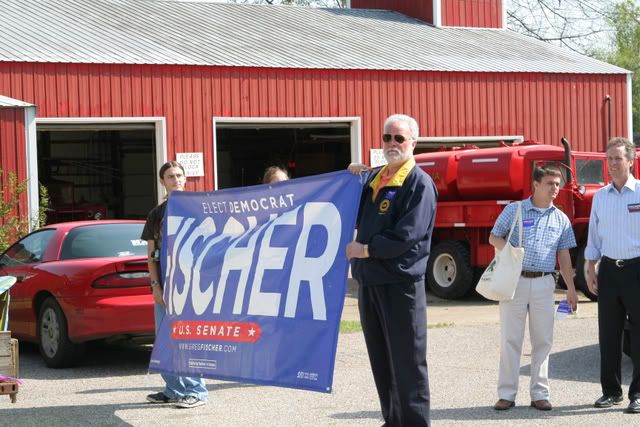 Of course they have a lot to be excited about!! Fischer recently outraised his competition in the Democratic Primary by 2 to 1 among voters.
Here is Greg Fischer's new ad called "The Change" detailing what kind of change we need!!:
Please help keep this ad up and keep our momentum going, not to mention supporting the only Progressive option to Mitch McConnell here;
http://www.actblue.com/page/ka…
We simply must fight for our great Democrats wherever they are!! Please help us keep our momentum in Kentucky going by supporting two awesome Kentucky Democrats!!!
Best wishes fellow Democrats!!
Special thanks to kilowat for the awsome pics!!!