The hypocrisy of the modern Republican Party never ceases to amaze me. The Republican Party leadership is, and always will be the party of the mighty Greenback. Despite this they try to lecture all of us on things like moral values, and being tough on terrorists. However, if these things ever interrupt their endless quest for profits, they are easily forgotten if those profits are threatened.
A perfect case-in-point is the Congressman of Kentucky's First Congressional District, Ed Whitfield. He paints himself as "tough on terror", but the true terror to him is losing his precious profits.
As it ends up, he is tied to the Bush Family by more than just rubber-stamping every failed policy of a failed administration. Shortly before George W. Bush's uncle, Jonathan Bush took over as CEO of Riggs Bank, Ed Whitfield bought some Riggs Bank Stock. Whitfield held on to this stock, even though Jonathan Bush had been fined $30,000 in Massachusetts, and several thousands more in Connecticut for violating registration laws that govern securities sales in 1991 and was barred from securities brokerage with the general public in Massachusetts for one year.
But that is just the beginning. It appears that a Saudi named Omar al-Bayoumi housed and opened bank accounts at Riggs Bank for two of the 9-11 hijackers. Just two weeks after this assistance began, al-Bayoumi's wife began recieving monthly payments totaling tens of thousands of dollars from Princess Haifa bint Faisal, wife of Bandar Bush of Farenheit 9-11 fame.
http://en.wikipedia.org/wiki/R…
When the FBI discovered these transactions, they began an investigation of the bank for possible money-laundering, and funding of terrorism. Riggs bank was fined a record $25 million in 2004 for allegedly violating anti-money laundering laws because of it's handling of Saudi-controlled accounts that were under investigation for possibly funding terrorism. One of Whitfield's fellow Republicans, Charles Grassley had this to say about the fine:
"Riggs Bank deserves every penny of this huge fine," Grassley said in a statement Thursday. "Banks have a patriotic duty, not to mention legal requirement, to report suspicious activity. When banks look the other way, they put our national security at risk. Whether it's through incompetence, negligence or greed, they are allowing terrorists to funnel their blood money through the system."
http://www.usatoday.com/money/…
Do not Congressmen have a "patriotic duty" not to invest in such unscrupulous, criminal enterprises?
But it doesn't stop there. Riggs bank also helped Chilean dictator

Augusto Pinochet Ugarte hide millions of dollars of assets from international prosecutors while he was under house arrest in Britain. They came up with a clever and dishonest scheme to do this:
Senate investigators, who spent more than a year looking into Riggs, found that the bank attempted to use offshore and other accounts that were misleadingly named to obscure their connection to Pinochet. In documents required by federal regulators, for example, the bank referred to Pinochet not by name but as "a retired professional" who held a "high paying position in public sector for many years."
http://www.washingtonpost.com/…
Riggs Bank was forced to plead guilty in early 2005 to felony charges that they failed to file suspicious activity reports and were fined another$16 million to resolve the anti-money-laundering deficiencies in it's former embassy and international operations.
Now, according to his seemingly incomplete 2006 personal financial disclosure, Ed Whitfield sold off his Riggs Bank holdings on Sept. 9, 2006. My question to Exxon Ed Whitfield, is why after this bank was taken over by a former criminal CEO, paid a fine for laundering possible terrorist Saudi money, and pled guilty to hiding money for a ruthless dictator, did it take him so long to sell off his stock? Are these the kind of "Family Values" that Whitfield sees fit to invest in? How can one be tough on Terrorism if they invest in institutions that possibly fund such activity?
This investment shows where the priorities of Exxon Ed Whitfield truly lie. The fact of the matter is that through two criminal investigations, guilty pleas, and fines, Exxon Ed Whitfield still saw Riggs Bank as a worthwhile investment, whether it supported terrorism and ruthless dictators or not.
Now, I am all for Americans investing, and bettering themselves. Part of the American way is the ability to grow your wealth, and be successful. However, don't the investments you choose to make reflect upon your character and judgement? The fact that Whitfield supported all this illegal activity with his own invested money speaks volumes about his ability to lead, and make decisions for the citizens of Kentucky's First Congressional District.
We need a new direction from this seat in our Congress. Exxon Ed Whitfield has become a millionaire while representing our district, and the average working family has fallen further behind. Now more than ever, we need new leadership in the Congress from this district: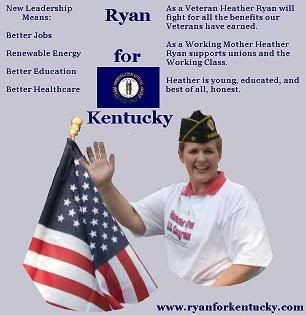 We can win this race if we let the voters here know just how bad the judgementExxon Ed Whitfield has exercised truly is.
To do that, we need your help. Please consider supporting Heather Ryan, and helping her gain momentum going into the Fancy Farm Picnic, which kicks off the political season in Western Kentucky. You can do so here:
It is time to retire members of Congress like Exxon Ed Whitfield, whose poor judgement puts profits over ethics, and blindly invests in criminal activity.